Outside Lights and Garden Lights in Liverpool
Outside & Garden Lights from qualified electricians in the Liverpool and Merseyside Area
You spend plenty of time thinking about and shopping for the lights that you fit inside your home – but what about those for outdoor areas?
As we look to make ever more use of the space around our houses for relaxing and entertaining – something which took on extra importance when we were all locked down during the COVID-19 pandemic – inventive lighting manufacturers have increasingly turned their attention to bringing us imaginative ways of illuminating the canvas that is our outdoor space.
Nature plays a big part in making our patios and gardens attractive, of course. But lighting can bring us much closer to the world outside our windows and doors, and help us look at it more closely to appreciate its true beauty.
More than that, garden lighting can open our eyes to looking at the beauty that we can create with nature's help in a new way. And who needs expensive interior decor as a backdrop to impress anyone, when you can show off what nature has given us, at practically any time, with modern and sophisticated outdoor lighting?
Let's not forget that there's also a security aspect to garden lights too. When you've spent a great deal of time, trouble and money to create an outside space that you can be proud of, it can become a target for thieves.
Effective outside lights, though, can help keep out unwanted visitors, by making them easily visible when they most want to stay cloaked in darkness.
Use garden lights to extend your living space
Once you have created a garden that you're proud of, it's only natural that you want to make as much use of it as possible.
So why should you just be able to use it when the sun's up? 
After all, with just the flick of a switch – exactly as you'd do in any room in your house – you can bathe your garden in light which makes it useable well beyond the daylight hours.
So you can make use of the safe play area that you've created for your children, and the space you use to welcome and entertain guests when the weather allows for as long as you feel comfortable – and certainly the fun doesn't have to stop when darkness descends. 
If you want to really show how proud you are of your garden, you can buy garden lighting that fits the style and mood that you've created – just as you do for all your interior rooms.
7 Electrical can safely and expertly fit your garden lighting, so that any electrical leads and controls are kept out of sight, and you can switch them on either individually or collectively, depending on the amount of light you need.
Talk to us about your vision for your garden lighting, and the effects you want to create, and we'll help you make them bloom!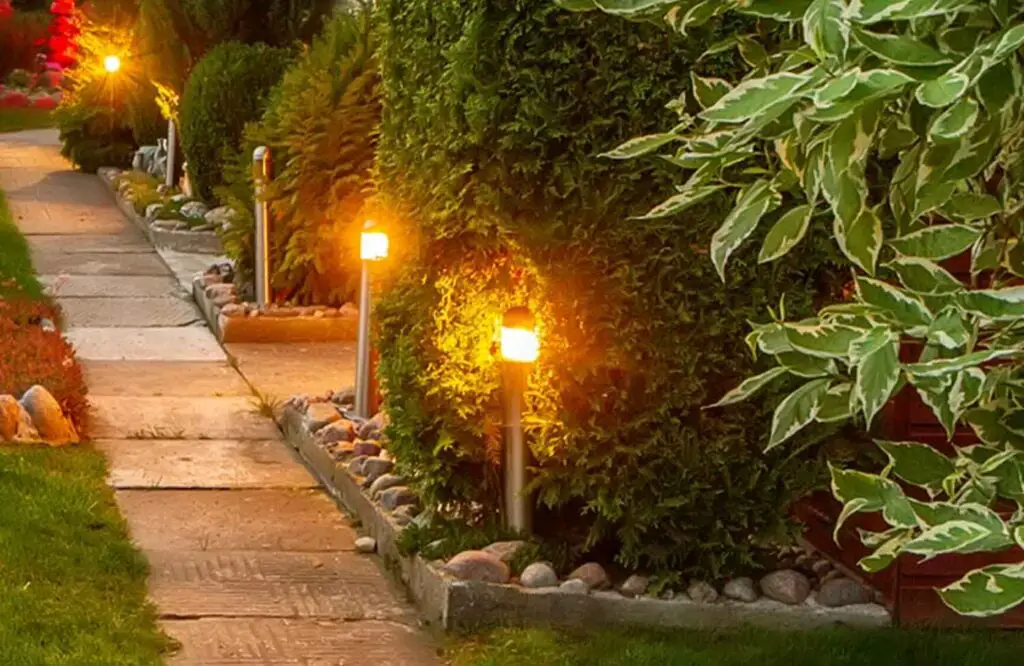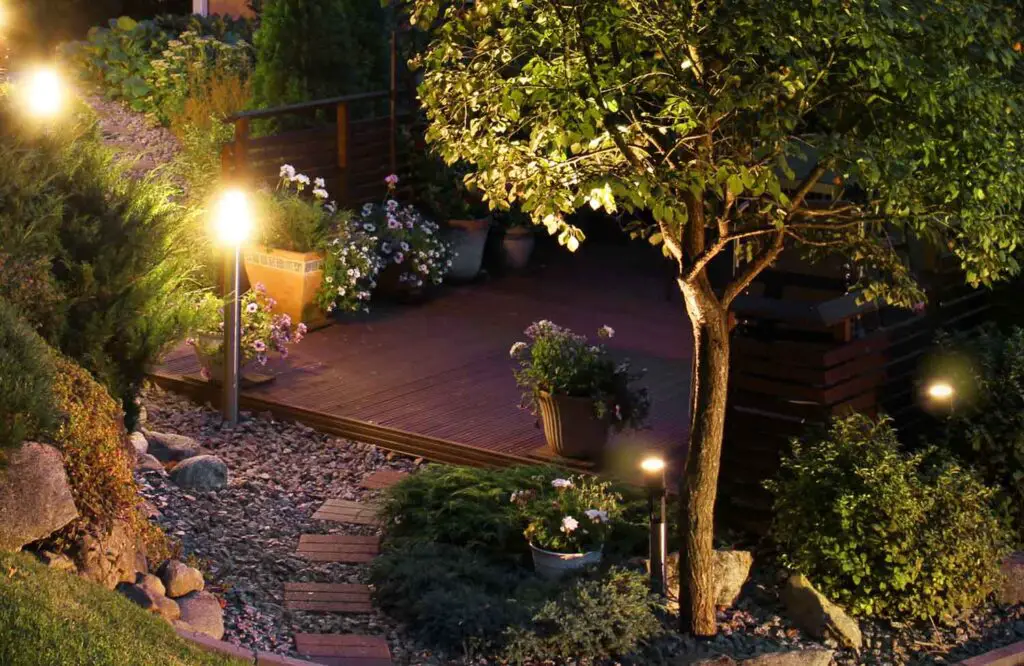 Trust 7 Electrical to fit the light you need to make your garden glow!
We can supply and professionally fit a wide variety of types of outdoor lights, in styles which are purposely designed to fit in with the look you've taken so much trouble to get in your garden.
Take a look at what's available – there's plenty of inspiration out there to be had for free – then be sure to consult qualified, time-served electricians such as those we employ at the 7 Electrical Group. We will fit them safely and considerately, and want to be sure that you'll be de-lighted with the results!
Outside lights and garden lights FAQs
Is it safe to leave outdoor lights switched on at night?

If your outdoor lights or garden lights are of the modern LED variety, then there's no good reason why you should always turn them off before you turn in.

That's because their low running costs will make little difference to your overall lighting bills. Yet these modern lights can create any effect you want, from soft and subtle, to brash and bold.

You can always add a sensor to your light switches if you wish, so that they are automatically turned on when they detect that someone has walked into the space that they illuminate.
How do I know that the lights I choose are suitable for outdoor use?

Outdoor lights come in many different styles, such as flush-fitting wall or ceiling lights, hanging lanterns, coach lights, porthole lights and flush-fitting ground or decking lights.

What they all need to have in common for outdoor use is a sound, water-tight casing which prevents water from getting in and damaging the sensitive electrical components.

All light units suitable for outdoor use are given an IP rating. Standing for ingress protection, it's an indication of how well protected the working, electrical parts of the light are from water and all other kinds of moisture.

So look for the IP rating, and use that as a guide to your choices. Particularly around areas where safety is critical, such as steps, the right choice of outdoor lights will give you great peace of mind, allowing you and guests to freely enjoy the light in the dark.

Finally, we issue a rewiring certificate, fully listing all the work needed to make your property safe.
Do outdoor lights require any special maintenance?

Exterior lights need minimal care, but even then, routine annual maintenance can extend the looks and life of your exterior lighting. Outside lights easily pick up the dirt that's carried in tiny particles when it rains. 

You should brush off this dirt and wipe down the fittings with a damp cloth. Then, when it's dry, you can touch up any paintwork which has started to peel. Sometimes, stainless finishes may tarnish unless periodically wiped with baby oil or barrier oil such as WD40, which is very useful to also lubricate screws and fixings. These can become rusted or weld themselves together, making it almost impossible to undo them when you need to change the bulb.

Manufacturers often include care instructions; you shouldn't ignore these, as they can form part of any warranty. Without maintenance, your lights will still be safe but may not be usable, or as attractive as they get older. Taking care of maintaining an exterior light takes minutes, which are worth the trouble, as they will save you money in the long term.
Why Choose Us To For Your Electrical Rewire?
We bring you more than 25 years' experience in the industry working for both residential homeowners and commercial clients.
We're fully certified by ECS (the Electrotechnical Certification Scheme). So you can be sure that our electricians work safely and to the highest standards.
Your work will always be carried out by Electrical Registered Competent Persons
We will respect and take the utmost care to avoid damage to your property, existing walls, decor, flooring, etc. We do everything we can to limit disruption while we work, and will always tidy away and clean thoroughly when we've finished.
FAIR & TRANSPARENT PRICING – free quotes and consultation are always given regardless of the type or size of job.
We are based in Liverpool city centre which gives us great access to all areas across Merseyside.
The staff you'll deal with are all courteous, uniformed professionals.  We take great pride in our work, appearance and lifestyle and always aim to deliver premium quality finishes to exceed your expectations.