Commercial EV Charger Installation Liverpool
Do you want to drive your business vehicles towards an electrically-powered future?
Have you noticed more of your employees asking about switching to driving electric vehicles?
There are some generous incentives on offer, to encourage everyone to make their next new vehicle something far more environmentally friendly.
And then there's the looming 2030 date after which new petrol and diesel cars will be withdrawn from sale.
So now is the time to start planning ahead for the electric age for company transport.
Research from America has found that having the reassurance of being able to charge their vehicles at work makes employees up to six times more likely to seriously consider buying an electric car.
Not all EV chargers are suitable for use at commercial premises – you need to be sure of finding the right type. We at 7 Electrical Group have carried out several of these kinds of installations, and can give you all the advice you need to get the right charging system for your needs.
Give us a call today to discuss the best EV charging solution for your business.  
Get an EV charger fitted easily at your workplace
If you've seen the modern EV chargers now available, you can't fail to be impressed by how compact and unobtrusive they can be.
'Smart' EV chargers also let you keep tight control on your charging costs, giving you an itemised bill to help you see exactly how much you're paying – a big consideration in these days of unpredictable energy prices!
You can even get a Government grant to cover up to 75% of the cost of having not just one, but up to 40 EV charging points installed, provided you use an approved installer. Based on a maximum installation charge of £350 per EV charger, that's a handout of up to £14,000 which could help you make the switch, and encourage your employees and customers to do the same.
That's got to be a great boost to your plans to move your company transport into the electric age – speak to us at 7 Electrical Group and we'll help make the next steps as easy as flicking a switch!
Workplace EV charging is the future – get ahead of the game
Having EV chargers fitted at your business is a good move for your company. It can encourage customers to stop and visit your premises, so in itself can drive extra business your way.
And as more and more motorists move to electric cars, and companies switch their van fleets to electric, if you've got the capacity to help keep them on the move, then they're sure to appreciate your assistance.
Read on to get answers to a few of the main questions you might have about how your business can be helped to make the change to electric vehicles – and a few of the things you need to be aware of.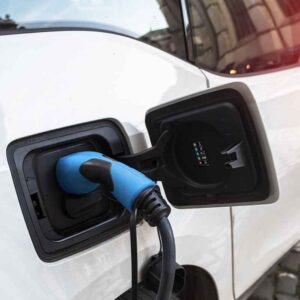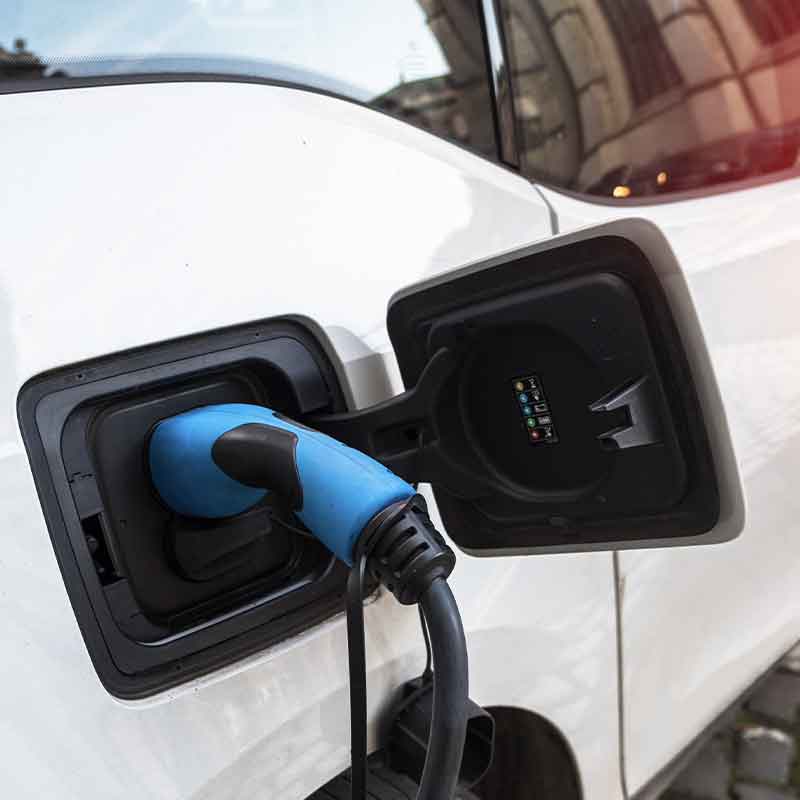 Commercial EV charging station FAQs
Will I need planning permission to have an EV charger installed at my workplace?

You won't need planning permission to install a wall mounted electrical outlet for recharging of electric vehicles as long as the area is lawfully used for off–street parking.

For an installation to be classed as permitted development, the electrical outlet (and its casing) must not:

Exceed 0.2 cubic metres
Face onto and be within two metres of a highway
Be within a site designated as a scheduled monument
Be within the curtilage of a listed building
What savings might I be able to make for my business by installing a workplace EV charger?

Your workplace space is an ideal place for installing EV chargers, because many of your business's vehicles (e.g. employee vehicles during work hours, fleet vehicles overnight) are stood idle long enough to get a meaningful charge from low-cost EV charging points.

As a rough guideline, you can save more than £1,000 a year per 10,000 miles covered by your commercial and employee fleet.
Your employees will value the chance to be able to charge their vehicles while they work.
You will pay less "benefit in kind" tax for your employees' company cars.

A green fleet can help your business reduce its CO2 emissions and achieve long-term sustainability goals.
What about maintaining a workplace EV charger?

In most cases, they need very little looking after – no more than your standard electrical circuits.

For levels 1 and 2 chargers, the most maintenance you'll typically need is an occasional quick check for damage to the cables and plugs which will help keep them working efficiently. 

Even with everyday use, these chargers are designed to last for years before they require servicing. Your installer will be able to help with any problems you get with your charging station, in the same way as they would with any other electrical systems. 

Publicly accessible level 2 or level 3 chargers need different levels of maintenance depending on their use and location. You should keep a regular watch on the cables, plugs, and charger itself, checking for any damage and ensuring that they still work well. As you would with any payment devices and other IT systems, touch screens, card or RFID readers and software systems you will also need to check and update these regularly. 

Generally, you can pay an annual fee for an extended warranty for your electric car chargers. This will cover preventative maintenance and quick repairs if something goes wrong. New connectivity and modularity features fitted in modern chargers mean that problems can often be diagnosed remotely.
What is 'smart' EV charging, and what are its potential benefits?

Smart charging is a safe and convenient way of charging your electric vehicle (EV) at times when demand for electricity is lower, for example at night, or when there is lots of renewable energy on the grid.

Charging during these off-peak times not only reduces your business's EV charging costs by using cheaper energy rates, but also helps to smooth out demand for electricity from the grid.

Even if your EV charger isn't of the smart type, you can still adjust your routine to charge at off-peak times by manually plugging your EV into it during low-cost periods.

You will typically need 3G, 4G or 5G or a good wi-fi connection at your workplace to be able to take full advantage of the benefits of smart EV charging.
Can I get a grant to help meet the cost of installing a workplace EV charger?

The Workplace Charging Scheme (WCS) is a grant that businesses can use to reduce the cost of installing electric vehicle chargepoints for their staff.

The WCS grant is capped at £350 per chargepoint socket up to a maximum 40 sockets (40 single-point or 20 double-point socket chargepoints) per applicant business.

It's available to any businesses, charity, public authority, or small accommodation business with some conditions.
Why choose 7 Electrical Group to install your commercial EV charging point?
Full workmanship guarantees are provided for all electrical installations undertaken by our team.
Over 25 years experience in the industry working for both residential homeowners and commercial clients.
Fully certified by ECS to showcase that our electricians work safely and to the highest of standards.
Utmost care is taken to avoid damage to your property, existing walls, decor, flooring, etc. We always clean and tidy at the end of every job and will do everything we can to limit disruption.
FAIR & TRANSPARENT PRICING – free quotes and consultation are always given regardless of the type or size of job.
We are a local and based in Liverpool city centre which gives us great access to all areas across Merseyside.
Courteous, uniformed professionals.  We take great pride in our work, appearance and lifestyle and always aim to deliver premium quality finishes to exceed customer expectations.