Electrical Services for Landlords in Liverpool
We're here when you need electrical installation and maintenance services for landlords
If you let out a property or properties in the Liverpool, Wirral and Cheshire areas, it's your legal responsibility to "keep your rented properties safe and free from health hazards".
As electrical installations and appliances cause several thousand deaths and serious injuries every year here in the UK, you have a duty to make sure that kthe electrical systems, wiring and fixed appliances such as cookers, fridges and freezers in your properties are up to the required standard, and is checked from time to time to prove it.
Don't let all this give you another kind of shock though – here at 7 Electrical Group, we're fully qualified and equipped to make all the checks you need, and put things right when needed.
Get the peace of mind of having a reliable electrician looking after your properties
You've heard the saying that 'prevention is better than cure'?
Well, this doesn't just apply to our own health – the same goes for our houses, flats and other properties too.
So if you rent out a flat, house or any other kind of property, getting its basic workings – and especially its electrical systems and appliances – checked regularly, could actually save you money in the long run.
While you have to prove at the start of every tenancy that your property is safe and meets all the legal requirements, you should also think ahead.
Because to successfully re-let that property, you will need to show that it has been properly looked after during the tenancy. Which means having any faults that have arisen put right.
Call on us at 7 Electrical Group to carry out regular, periodic checks of your rented properties, and we will produce a full condition report, verifying that it meets the required standards – or we'll give you a quote for any repairs you need.
You have a responsibility to your tenants – let 7 Electrical Group help you fulfil them
Your good reputation as a landlord will help you greatly when it comes to finding reliable and trustworthy tenants.
So show yours that you have their interests at heart, by getting your property or properties checked – it's also likely to save you from any nasty shocks further down the line!
The actual checks don't take very long, but do require the power to be turned off temporarily – so if you have tenants who are likely to be in when we call, you should let them know to expect us.
If you need an EICR certificate, or have one that will soon expire, call us and a qualified electrician will arrange to inspect your property and issue all the paperwork at a time convenient to you.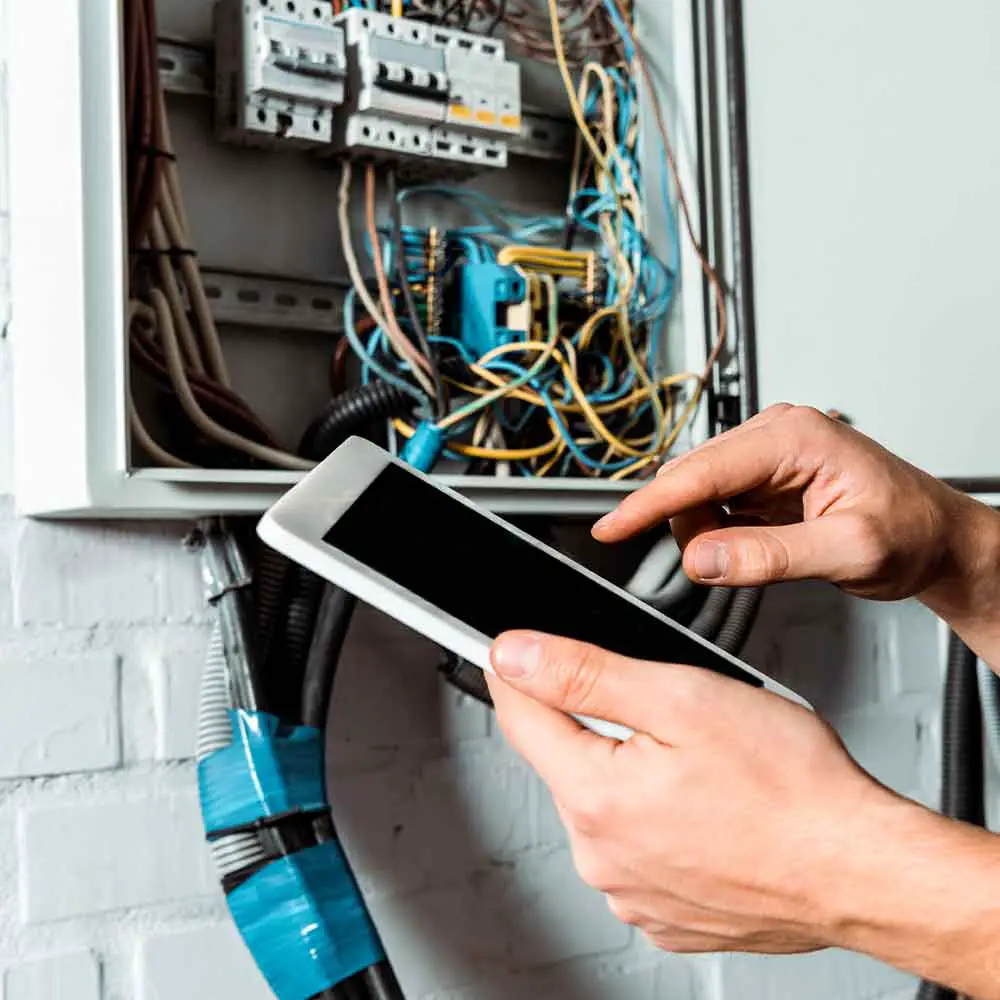 Electrical services for residential landlords FAQs
What are my obligations on electrical safety as a landlord?

As a landlord, you are responsible for arranging a landlord electrical safety certificate for each property you own at least once every five years, or when you let the property to a new tenant.

So if your property doesn't have one, and you are letting it out to new tenants, you will need a landlord electrical safety certificate, also known as an EICR certificate.

It's also recommended that you get one carried out if there is a change of occupancy. The maximum fine for not having an EICR is £5,000 per property.
Who can carry out these checks and issue the required certificate?

This has to be done by a 'competent' person – in other words, a qualified and certified electrician. It's something we have the knowledge and appropriate certification to help you with here at 7 Electrical Group.

One of our engineers will visually inspect your installation for damage, and run electrical currents through your circuits to check they work safely.

In order to carry out the inspection they will need to disconnect your electrical supply temporarily, so bear this in mind if you have tenants already in your property.

Our engineer will provide you with a report and let you know if the inspection was 'satisfactory' or 'unsatisfactory'. If it's unsatisfactory, you will need to get any faulty circuits repaired and retested within 28 days. 

We will be happy to give you a further quote for any work that's found to be necessary during an EICR certificate check.
How much will it cost me to get a new Landlord Electrical Safety Certificate?

This depends on the size of your property, as logically, a bigger house will have more wiring and circuits which will need to be checked.

Please contact us for an individual quote for your property, and we'll be happy to give you a cost estimate beforehand.
Why Choose Us To Help With Your Property Electrics?
We bring you more than 25 years' experience in the industry working for both residential homeowners and commercial clients.
We're fully certified by ECS (the Electrotechnical Certification Scheme). So you can be sure that our electricians work safely and to the highest standards.
Your work will always be carried out by Electrical Registered Competent Persons
We will respect and take the utmost care to avoid damage to your property, existing walls, decor, flooring, etc. We do everything we can to limit disruption while we work, and will always tidy away and clean thoroughly when we've finished.
FAIR & TRANSPARENT PRICING – free quotes and consultation are always given regardless of the type or size of job.
We are based in Liverpool city centre which gives us great access to all areas across Merseyside.
The staff you'll deal with are all courteous, uniformed professionals.  We take great pride in our work, appearance and lifestyle and always aim to deliver premium quality finishes to exceed your expectations.
If you see any signs of possible deterioration in the wiring around your unit, or if the casing of the unit itself is damaged, call us at 7 Electrical Group, and we will promptly carry out any repairs needed to put your mind at rest.