Home EV Charger Installation Liverpool
Trust 7 Electrical Group for Professional, Reliable Home Electric Vehicle Charger Installations
If you're seriously thinking about making the switch to an electric car or other vehicle, whether for your own private use, or for business reasons, the ability to charge it overnight at home is probably one of the most compelling benefits you might have on your list.
You can use a standard three-pin plug to charge an electric car at home, but it's far quicker to use a more powerful EV charging unit, which can charge a car's battery to about 95% of its full capacity in about a third of the time.
These chargers usually have an output of about 7kW, and to get some idea of how long one would take to charge an EV, you can divide the total power output of its battery by the power of the charger. So a car with a 40kW battery can be charged in about six hours.
This prospect of being able to achieve a near-full charge overnight in most cases is one of the most compelling reasons why electric car sales are gathering pace – and are likely to continue to do so for a good few years yet.
7 Electrical Group can advise you on potential grants available to help towards the cost of installing a home EV charger in Liverpool & surrounding Merseyside Area
The Government's Electric Vehicle Homecharge Scheme is designed to encourage drivers to switch to EVs, and offers some generous benefits.
If you've bought an electric or plug-in hybrid vehicle that's included on the government's list of approved eligible vehicles after October 1, 2016, you can get financial help towards the cost of a charger for home use as long as:
You have a 'smart charger' device installed
You have an off-street parking space – ideally a driveway or garage – to which your home EV charger can be hooked up
You have your home EV charging point installed no more than four months before you take delivery of your electric vehicle, or become its registered keeper with the DVLA, and
The charging point you have fitted is of a type approved by the Government's Office for Low-Emission Vehicles (OLEV). There are loads of different types available with a stack of handy features, even ones that will take power from your home solar panels!
Take advantage of Government grants to contribute to the cost of installing a home EV charger in Liverpool
The Electric Vehicle Homecharge Scheme (EVHS) offers grants designed to cover three-quarters of the cost of having an EV charging point installed.
The maximum amount you can claim is £350, and you should qualify if you bought your electric or plug-in hybrid vehicle after 1 October 2016.
See the previous section for details of the conditions which must be satisfied for your EV charger installation to qualify for a large chunk of the cost to be met by the government.
These grants are on top of other incentives offered by the government to meet the cost of actually buying a new electric vehicle.If you want to install an EV charging point at your workplace, there is a separate scheme known as the Workplace Charging Scheme which offers grants on the same basis as outlined earlier.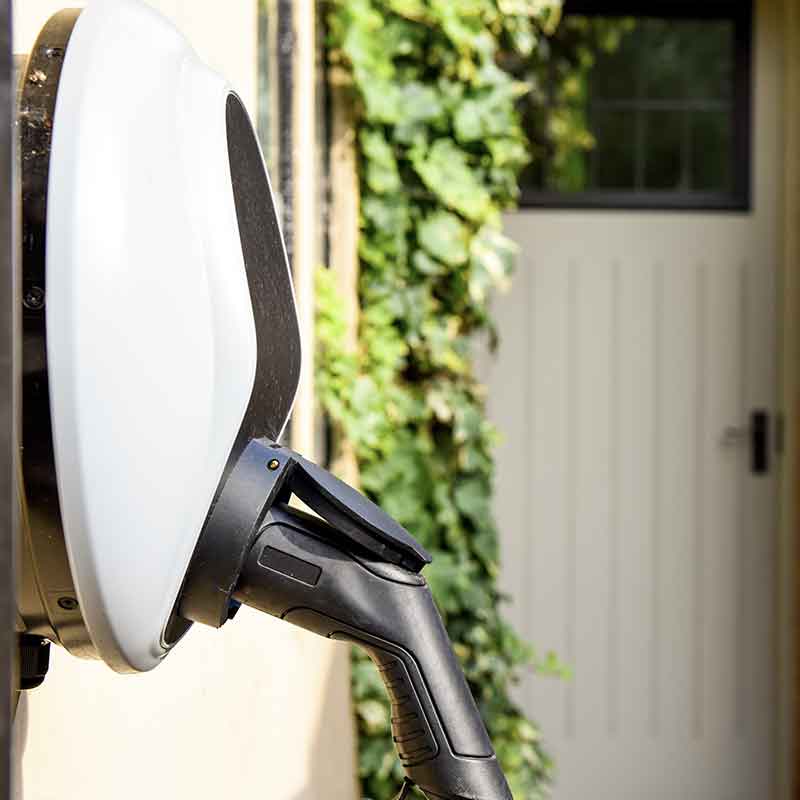 Home EV Charger Installation FAQs
Which type of home EV charger will be right for me?

EV charging points are generally classified in three ways: slow, fast and rapid, which refers to the amount of power they produce and the speed at which they can charge a typical car battery up to 80% capacity.

Slow charging points are the most common types found in home and workplace installations. These typically have an output of 2.3kW or 3kW and will use a standard three-pin plug connection.

A full charge can take between 10 and 14 hours using one of these chargers, so if you need a faster charge you should look at a 7kW home car charger, or even a 22kW model, both of which offer significantly faster charging.

You also need to be aware of the type of inlet fitted to your car. There are two main types used for rapid charging, with Type 2 variants being far more common than the earlier Type 1 sockets.
What's included in a home EV charger installation?

We usually include the following as part of a standard installation:

Fitting the charge point to a suitable wall. This usually has to be made of brick or plaster, but we will discuss your options with you if neither of these is available.
A length of power cable which is usually enough to connect the charger to the distribution board or electricity meter.
Fitting and testing of the electrical connections to the charge point and its protective circuits.
A length of white plastic conduit to cover the power cable mentioned above
Installation of an earthing point at a suitable spot close to your charger.
How long is it likely to take to have a home EV charger installed in Liverpool?

As a rule, a home EV charger can be fitted in two to three hours. But if there are any complicated circumstances to the installation, this will extend the amount of time needed.
Do I need to do anything to prepare for having my home EV charger fitted?

It's a good idea to take some photographs of the site where you want your charger to be installed before our advisers come to visit. We can then give a pretty firm idea of whether we think your chosen location will be suitable, and possibly even advise why this might not be the case.

You can expect to have your electricity supply switched off temporarily for safety while the charger is installed and fitted to your main circuit – but our installers will always give you prior notice of this so you can be prepared.

You will also need to have your home WiFi password to hand, so your new smart charger can be connected to the internet. 
Why choose 7 Electrical Group to install your home EV charging point?
Full workmanship guarantees are provided for all electrical installations undertaken by our team.
Over 25 years experience in the industry working for both residential homeowners and commercial clients.
Fully certified by ECS to showcase that our electricians work safely and to the highest of standards.
Utmost care is taken to avoid damage to your property, existing walls, decor, flooring, etc. We always clean and tidy at the end of every job and will do everything we can to limit disruption.
FAIR & TRANSPARENT PRICING – free quotes and consultation are always given regardless of the type or size of job.
We are a local and based in Liverpool city centre which gives us great access to all areas across Merseyside.
Courteous, uniformed professionals.  We take great pride in our work, appearance and lifestyle and always aim to deliver premium quality finishes to exceed customer expectations.