Home Security Lighting Install Liverpool
Home Security Lighting from qualified electricians in the Liverpool and Merseyside Area
The longer, darker nights bring extra concerns about home security, with a Which? survey suggesting that as many as seven out of 10 of us worry more about the safety of our homes far more once the clocks have gone back.
But for plenty of us, the rising cost of electricity will make us think twice about taking the common step of leaving a light or two on inside the house when we go out.
Then of course, there's the worry that someone who knows your neighbourhood will soon realise that you keep some lights on when you aren't at home, so may not be deterred anyway.
So why not up your security game, by installing modern, energy-efficient external security lights?
These can be triggered by built-in motion sensors, which means they won't be on permanently. Instead, they will only come on when movement is detected within the area covered by the path of that light. 
And what's the biggest deterrent to anyone who might want to break in or otherwise cause a nuisance on and around your property? Simple – light. We know how animals turn tail and run away as quickly as they can when they suddenly find themselves in the glare of a strong light. 
The same is true of humans – it's a natural instinct when we're up to something we shouldn't be doing that we don't want to be seen. A sudden bright light takes away the cloak of darkness, leaving those who rely on a lack of illumination exposed, and stopping their potentially criminal activities in their tracks.
Let 7 Electrical Group show you how to arm your home with light
It's a common misconception that security lighting is only for business premises and millionaires' mansions.
Today's state-of-the-art security lighting systems are far more sophisticated than those we may know from seeing them covering large, often isolated areas such as industrial estates.
To begin with, when they are used to illuminate only a small area such as a courtyard or the area around a front door, they can be designed to be far less harsh, only lighting up a small, targeted area, so reducing the risk of inconveniencing the whole neighbourhood.
Think too, about the direct benefits you could get from having automatic security lighting close to your entry points. No more danger of stumbling over doorsteps, or having to fumble for keys in darkness – you'll have a reassuring light to guide you.
Home security lights also act as effective reinforcements to other modern tech, such as smart doorbells. While these are popular because they have an in-built camera enabling you to monitor who is approaching your property, when teamed up with security lights it makes it far easier for you to see who's there, instead of just an indistinct outline.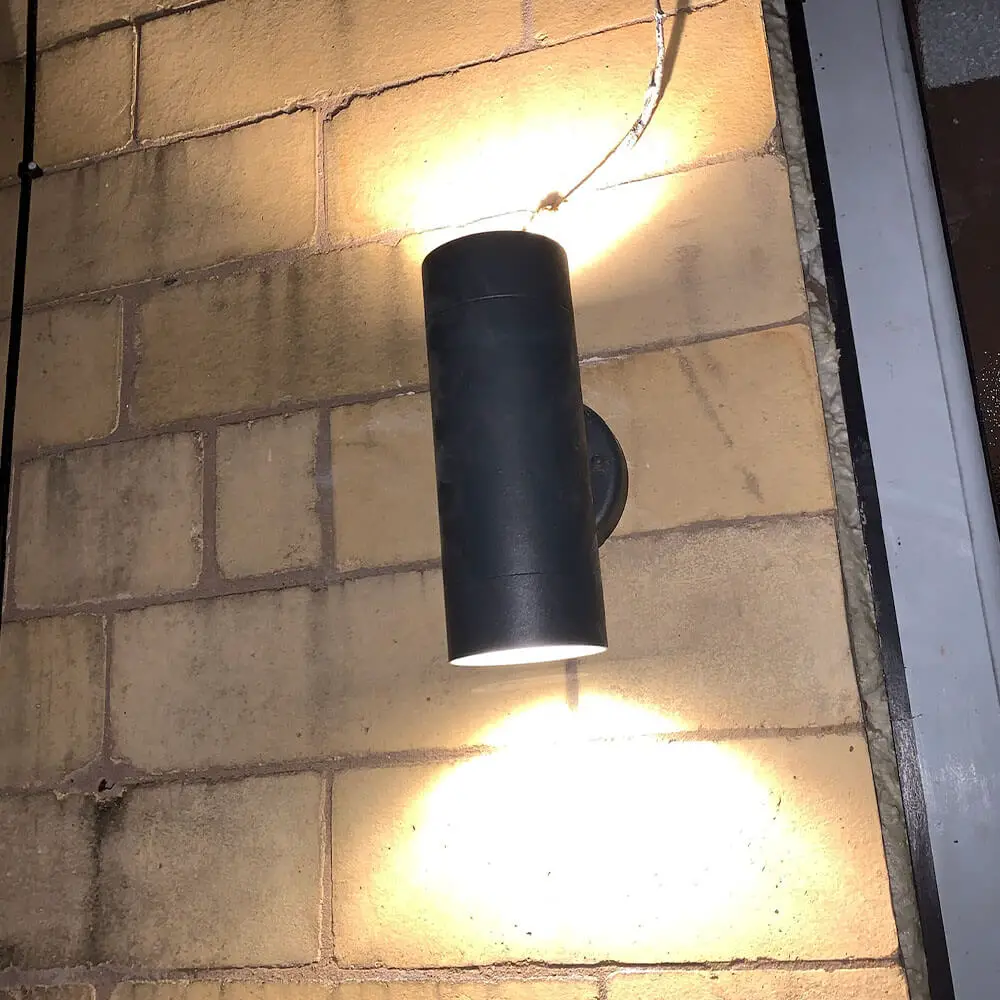 Honest and no-obligation advice from our electrical experts
It also works effectively in keeping straying domestic pets or even wandering wildlife from getting too close for comfort. So if you have a problem with local cats congregating in your back garden, or using it as a short-cut, security lighting could be a way of making sure that they keep their distance.
We're happy to give you advice on the security lighting set-up that would be best for your needs at 7 Electrical Group. We have many years of offering and installing these lights around customers' homes, and can guide you towards the right set-up to give you peace of mind.
For a no-obligation demonstration, or to discuss how our security lighting can better protect your property, call, email or message us.
Security lighting FAQs
Why do I need security lighting for my home?

To begin with, think in terms of what would happen if a would-be intruder approached your property and it WASN'T well lit.

That person could easily think that they can go about their nefarious activities without being seen – and that's an advantage you don't want them to have!

More and more homes are being fitted with smart doorbells, and while these are an effective deterrent in many instances, the extra coverage offered by security lights makes them an even more powerful weapon against unwanted attention around your property.
Is halogen or LED lighting best for security?

You're probably familiar with the older-style halogen lamps which have been used to keep premises secure for many years. These are well-known for the strong light they produce, to keep intruders out of commercial premises, for instance.

But the 150 to 300 watts of power that these produce means they can become expensive to run in the long term. 

In contrast, LED lamps need a fraction of the amount of power to produce the same levels of light. They've also been proven to be better at withstanding regularly being switched on and then off again.
Are solar lights suitable for illuminating the outside of my home?

Outdoor solar motion lights have become ever-more sophisticated, and now you can find models which are equipped with a powerful LED array to light up any dark space, and up to 270 degree coverage.

Many are even fitted with the same motion-sensing tech as we've come to know on standard LED lights.

One big advantage of solar security lights is that, because you aren't reliant on a fixed power supply, you can fit them anywhere, choosing where you put them depending on where their illumination will be most effective. In most cases, you can also choose the level of brightness depending on your needs (and what your neighbours will tolerate!).
Why Choose Us To For Your Home Security Lighting?
We bring you more than 25 years' experience in the industry working for both residential homeowners and commercial clients.
We're fully certified by ECS (the Electrotechnical Certification Scheme). So you can be sure that our electricians work safely and to the highest standards.
Your work will always be carried out by Electrical Registered Competent Persons
We will respect and take the utmost care to avoid damage to your property, existing walls, decor, flooring, etc. We do everything we can to limit disruption while we work, and will always tidy away and clean thoroughly when we've finished.
FAIR & TRANSPARENT PRICING – free quotes and consultation are always given regardless of the type or size of job.
We are based in Liverpool city centre which gives us great access to all areas across Merseyside.
The staff you'll deal with are all courteous, uniformed professionals.  We take great pride in our work, appearance and lifestyle and always aim to deliver premium quality finishes to exceed your expectations.