Electrical Rewires Liverpool
Electrical rewires from qualified electricians in the Liverpool and Merseyside Area
Renewing or upgrading the electrical wiring in your home is a major job – there's no getting away from the fact.
But it's also a sound investment, which will, over time, repay you well in terms of guaranteeing the safety of your property, and everyone who lives in it. It also helps boost your property's value, and makes it far easier to sell should that time come.
Faulty or overloaded electrical systems and connections cause hundreds of house fires every year. According to trade body Electrical Safety First, more than 14,000 such blazes – over half of all house fires – were said to have been accidental. Faulty appliances and leads were the cause in more than a quarter of these.
So getting any faults checked out, and where necessary, having the electrical wiring replaced, is a wise move.
Here at 7 Electrical Group, we have decades of experience of carrying out full or partial house rewires in Liverpool and across Merseyside and Cheshire.
We promise you:
An easy-to-use, reliable online booking service, with help available on the end of the phone if you need it
Accurate, carefully drawn up estimates of the cost of your home rewiring project, and of how long it will take
We'll take full account of any specific upgrades and improvements needed to your property's electrical systems to cater for new or high-demand appliances
Our electrical experts will work considerately around your home, will tidy up after they've finished, and will give you a full breakdown of the work carried out.
Get in touch with 7 Electrical Group to discuss how home rewiring will benefit your property
Lots of people are living with house wiring that's outdated, or just can't cope with all the extra appliances we now take for granted, and all of which place extra strain on the electrical supply system to our homes.
While this will have safety measures built-in to prevent the most serious harm to a home, overloading sockets causes potential hazards far beyond not looking particularly attractive.
Then there are the benefits in the form of cash savings. While most modern appliances are designed with the major objective of using less energy, the same goes for the systems which power them.
So by upgrading your home's wiring, you'll be able to make the most of the potential for today's energy-efficient home appliances to save you money, now and well into the future.
When we carry out a home rewire, we will carefully consider the location of your existing electrical sockets, and will discuss with you whether these still meet your needs. For example, you may have had your home extended or reconfigured, and are making more use of some parts of it, less of others.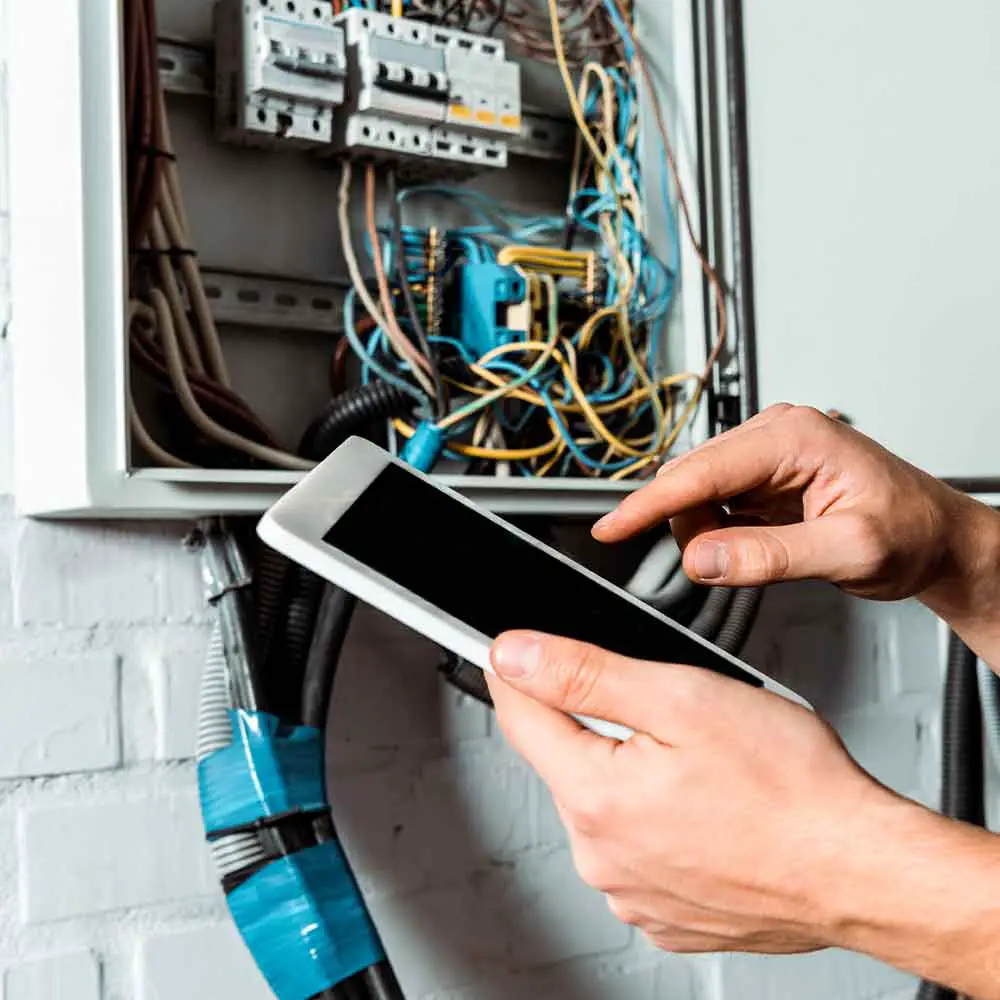 Honest and no-obligation advice from our electrical experts
We'll recommend rewiring solutions which are in step with those needs. So you can be sure that your home meets all current building regulations, and is comfortable and safe all year round.
And with the growing use of smart home tech, we'll also make sure that you're well prepared to take advantage of the extra controllability and potential cost savings that some of these devices can help you achieve.
Any time is right to talk about taking steps which can make where you live safer, greener and more suited to the way we live our lives today. So talk to us at 7 Electrical Group, and we'll guide you through how home rewiring can be at the core of doing just that.
Call, email or message us today, and we'll arrange to come and talk to you, at your convenience, about how we can help make a warmer, more comfortable and more economical home a reality.
Electrical Rewiring FAQs
When should I consider rewiring my home?

If it hasn't been done for 25-30 years, then there's a good chance that your property will need to be rewired.

Think of it like this. How many more electrical devices do you use on a typical day now, compared to in those days? Chances are that it's many more. And while on a day-to-day basis you don't really have to think about this, over the longer term, improving the electrical systems in your home through rewiring is an investment in keeping it safe for another two or three decades.
How will you determine whether my property needs rewiring?

At 7 Electrical Group, we follow a well-established, proven procedure, and observe the guidelines laid down by our trade body, the NICEIC, designed to minimise disruption.

So we will carry out a full assessment of what needs to be done, and give you a detailed cost and time quotation.

We'll then check all existing connections, to see whether they comply with current legal standards.

Next, we test your fuse board and all circuits to check that they work normally, followed by assessing all your power sockets, and report on whether they are also compliant.

Finally, we issue a rewiring certificate, fully listing all the work needed to make your property safe.
How long will it take to rewire my house?

As seasoned professionals, we have established efficient ways of working, all focused on keeping disruption to your daily life to a minimum.

But there's still no getting around the fact that a full house rewire is a major job, and we know it can't be rushed. As a broad outline, you can expect us to take four to seven days to re-wire a one-bedroom property, 5-8 days if you have two bedrooms, one to two weeks for a four-bedroom house, and up to 15 days for a property with five bedrooms.
Why Choose Us To For Your Electrical Rewire?
We bring you more than 25 years' experience in the industry working for both residential homeowners and commercial clients.
We're fully certified by ECS (the Electrotechnical Certification Scheme). So you can be sure that our electricians work safely and to the highest standards.
Your work will always be carried out by Electrical Registered Competent Persons
We will respect and take the utmost care to avoid damage to your property, existing walls, decor, flooring, etc. We do everything we can to limit disruption while we work, and will always tidy away and clean thoroughly when we've finished.
FAIR & TRANSPARENT PRICING – free quotes and consultation are always given regardless of the type or size of job.
We are based in Liverpool city centre which gives us great access to all areas across Merseyside.
The staff you'll deal with are all courteous, uniformed professionals.  We take great pride in our work, appearance and lifestyle and always aim to deliver premium quality finishes to exceed your expectations.
If you see any signs of possible deterioration in the wiring around your unit, or if the casing of the unit itself is damaged, call us at 7 Electrical Group, and we will promptly carry out any repairs needed to put your mind at rest.