EICR Electrical Safety Certificates Liverpool
Electrical safety checks from qualified electricians in the Liverpool and Merseyside Area
Do you know how safe the electrical systems are in your properties?
Whether you're a homeowner or a landlord, and regardless of how many properties you own or manage, an Electrical Installation Condition Report or EICR will give you an overview of the condition of the electrical systems in any property in the Liverpool area.
EICRs are formal documents, required of any property rented out in the Liverpool area, and they are also needed and relied on by estate agents as giving a reliable picture of the current condition of the electrical systems fitted in that property.
You can't necessarily judge the condition and safety of electrical wiring and connections and the supply which flows through them by simply looking at them.
An EICR will list the following:
Signs of any visible damage
Symptoms of system deterioration
Details of any operational defects
Information on any wiring or installations found to be in a dangerous condition, and
Non-compliances with the current safety standard which might give rise to danger.
Any faults uncovered during examination for an EICR will be graded as one of the following four categories:
C1 – Danger present. Risk of injury. Immediate remedial action required.
C2 – Potentially dangerous. Urgent remedial action required.
C3 – Improvement recommended.
FI – Further investigation required.
As you can see, an EICR is a comprehensive summary giving an objective view of the condition of the wiring and electrical circuits in a property at the time of the inspection.
7 Electrical Group has highly experienced staff, qualified to produce these detailed reports, and to recommend what, if anything, needs to be done to put any problems right. We can also give quick, accurate quotes for any follow-up work which might be needed.
It's why more and more Liverpool property owners and landlords are turning to us to produce their EICRs, and to carry out follow-up inspections. We can issue an EICR that is valid for up to five years, but where a property's electrical systems and wiring are particularly old, we may recommend that it is re-examined and a new report issued after three years. 
Contact us at 7 Electrical Group to get a thorough, detailed EICR for any residential property
Call us at 7 Electrical Group when you need an EICR, and we will visit your property to carry out the necessary inspection as soon as possible. 
Whether we are carrying out an inspection, or doing electrical work in your home, we will always work efficiently and considerately. Especially since COVID-19, we know many people are more wary than ever of having strangers in their homes, so our teams work as quickly and unobtrusively as possible to get the information they need, and will always aim to keep disruption to a minimum. 
We have a sound reputation as domestic electrical contractors in the Liverpool area, and our business has been established for more than 25 years. We're trusted by thousands of homeowners and property managers across the city and beyond, for all their electrical installation, testing, upgrade and replacement needs.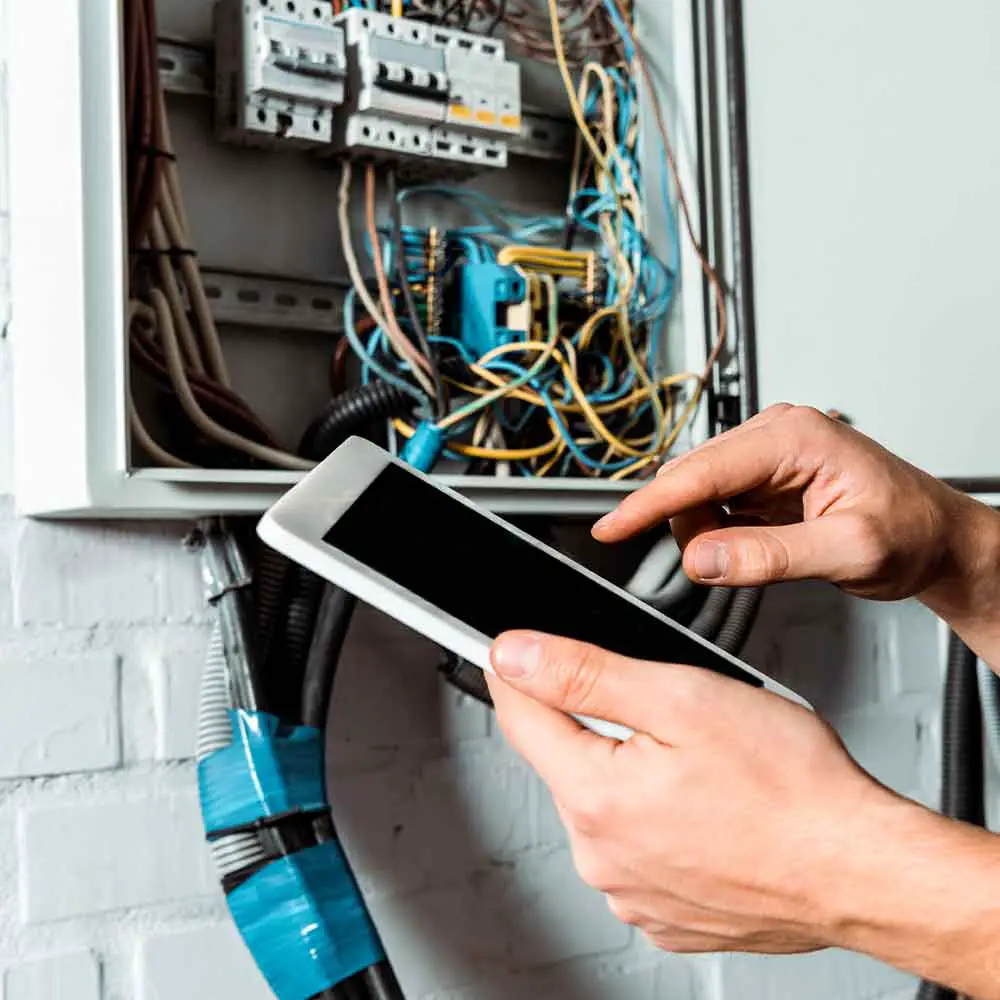 What does getting an EICR Safety Certificate involve?
Under regulations governing the safety of wiring in all homes, a consumer unit must have "one or more fuses, circuit breakers, residual current operated devices or signalling and other devices" to automatically isolate the power to individual circuits, or the whole electrical system.
So the consumer unit is a vital piece in the safety jigsaw for all homes, including yours.
It follows that ensuring that it is working properly is vital, and putting right any faults is entrusted to a qualified, experienced electrical contractor, such as the members of our team at 7 Electrical Group.
While safety measures built into the units mean it is unlikely that your home's electrical supply will be seriously interrupted, a faulty consumer unit could still leave you at risk of suffering an electric shock.
It's also important that you know where your home's consumer unit is located. We can advise you on the best spots for yours, and re-fit it in a more appropriate place if necessary.
EICR safety certificate FAQs
When do I need an EICR for my property?

If you own the property in which you live, there is no legal requirement for you to have an EICR produced for as long as you stay there.

However, you should think of an EICR as being similar to your car's MoT. You know you need to have that carried out regularly, as it will tell you if something is seriously wrong which could compromise your or your tenants' safety in the future.

And, similarly to a vehicle MoT, the report grades items according to how urgently they need to be addressed, as explained earlier. So you get a clear picture of the condition of your electrical systems, and recommendations for keeping it completely safe and operational.
How long does an inspection for an EICR take?

According to the NICEIC, the national registration body for accredited businesses working in all aspects of the electrical supply industry, a full EICR should take between three and four hours. This depends on the size of the property, and the number of circuits which need to be tested.
How long is an EICR valid for?

This depends greatly on the size and purpose of your electrical systems.

But for a typical home, we suggest that a new EICR should be obtained every 10 years, or whenever new occupants move into the property. If you're a residential landlord, where you have multiple sets of tenants, we strongly recommend that you get a new EICR at least every five years.
Why Choose Us To Carry Out The Checks For Your EICR Electrical Safety Certificate?
We bring you more than 25 years' experience in the industry working for both residential homeowners and commercial clients.
We're fully certified by ECS (the Electrotechnical Certification Scheme). So you can be sure that our electricians work safely and to the highest standards.
Your work will always be carried out by Electrical Registered Competent Persons
We will respect and take the utmost care to avoid damage to your property, existing walls, decor, flooring, etc. We do everything we can to limit disruption while we work, and will always tidy away and clean thoroughly when we've finished.
FAIR & TRANSPARENT PRICING – free quotes and consultation are always given regardless of the type or size of job.
We are based in Liverpool city centre which gives us great access to all areas across Merseyside.
The staff you'll deal with are all courteous, uniformed professionals.  We take great pride in our work, appearance and lifestyle and always aim to deliver premium quality finishes to exceed your expectations.
If you see any signs of possible deterioration in the wiring around your unit, or if the casing of the unit itself is damaged, call us at 7 Electrical Group, and we will promptly carry out any repairs needed to put your mind at rest.