EICR Cost Guide: Essential Information for Property Owners
Electrical safety is paramount for both residential and commercial property owners. Ensuring your property's electrical systems are in optimal condition is crucial for peace of mind and legal compliance. One effective method many property owners use is obtaining an Electrical Installation Condition Report (EICR). An EICR will assess the health of a property's electrical system, highlight any deficiencies, and recommend appropriate solutions.
An EICR can be a valuable tool for property owners, landlords, and estate managers. Understanding the costs involved in obtaining an EICR is important for anyone considering this assessment. The cost can vary greatly, influenced by factors such as property size, location, and extent of the electrical system. This guide will help you navigate this often complex topic and provide an overview of EICR fees.
Key Takeaways
An EICR is a vital tool for assessing the electrical safety of properties.
Costs are influenced by factors such as property size, location, and complexity of the electrical system.
Comparing EICR costs with different providers and understanding legal requirements can help you save on EICR fees.
What is an EICR?
An Electrical Installation Condition Report (EICR) is a detailed assessment of the electrical systems and installations within your property. Conducted by a qualified electrician, an EICR ensures that your electrical installations comply with British safety standards (BS 7671) and identifies any potential hazards or defects.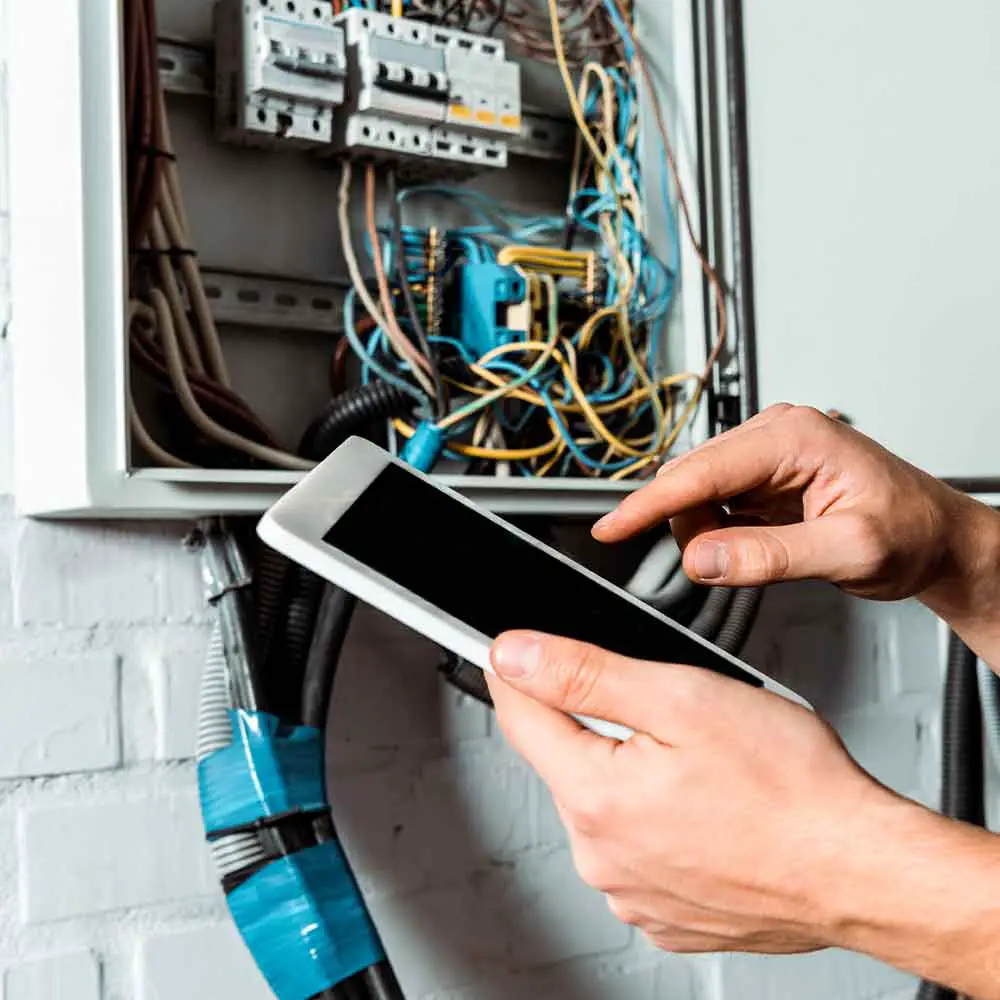 During an EICR inspection, the electrician will carefully examine your property's electrical installations, such as wiring, sockets, switches, and fuse boards. They will check for any wear and tear, damage, or improper installations that may pose a risk to the occupants or the property.
At the end of the inspection, you will receive a report detailing the condition of your electrical system. The report will classify any issues found into three categories:
C1 (Danger Present): These issues pose an immediate risk and require urgent attention.
C2 (Potentially Dangerous): These issues could become dangerous and should be addressed as soon as possible.
C3 (Improvement Recommended): These are non-urgent recommendations for improving the safety and efficiency of your electrical system.
In addition to identifying potential risks, an EICR can also help you maintain and enhance the value of your property, since it demonstrates to potential buyers or tenants that your electrical system is safe and well-maintained. Obtaining an EICR is especially important for landlords, as it is a legal requirement to ensure the electrical installations in rented properties are safe for tenants.
Now that you know what an EICR is, ensure your property's electrical safety and compliance by scheduling a professional inspection.
Importance of an EICR
An Electrical Installation Condition Report (EICR) is essential to ensure the safety of your property's electrical system. It is a comprehensive assessment conducted by a qualified electrician to identify any existing issues, potential hazards, and non-compliance with the current British Standards for electrical installations (BS 7671).
By obtaining an EICR, you can be confident that your property's wiring, electrical distribution, and overall system are functioning correctly and safely. This can help prevent accidents, electrical fires, and equipment damage caused by faulty installations or deteriorating components.
Landlords and property owners have a legal responsibility to provide a safe environment for occupants. Regular EICR inspections help fulfil this duty by identifying and addressing electrical hazards, thus ensuring compliance with regulatory requirements.
Moreover, an EICR can contribute to lowering insurance premiums by demonstrating proactive maintenance of electrical systems to insurers. It also helps in avoiding potential future expenses caused by unexpected breakdowns and extensive repairs.
In summary, an EICR not only improves the safety of your property's electrical system but also provides peace of mind by ensuring compliance with regulations, minimising risks, and maintaining optimal performance.
Factors Affecting EICR Cost
Size and Type of Property
EICR cost can be influenced by the size and type of your property. Larger properties with more circuits will generally incur higher fees as they take longer to inspect. Similarly, commercial properties often involve more complex electrical systems, contributing to higher costs than residential.
Residential Property: Expect to pay around £100 – £300 for a 1-3 bedroom house, while a 4-6 bedroom house may cost between £300 – £500.
Commercial Property: EICR costs for a small commercial property typically range from £200 – £400, and larger commercial properties can be upwards of £500 depending on the number of circuits and complexity of the electrical systems.
Location
Your location may also impact the cost of an EICR due to regional differences in labour rates. In general, prices tend to be higher in major cities and metropolitan areas as compared to rural and suburban locations. You may find regional variations in cost as follows:
London: £200 – £350 for a 1-3 bedroom house
South East: £150 – £300 for a 1-3 bedroom house
North West: £120 – £250 for a 1-3 bedroom house
Electrician's Experience
Lastly, the cost of an EICR can be affected by the experience and qualifications of the electrician you choose to hire. More experienced electricians may charge higher fees due to their expertise, but provide a more thorough inspection and higher-quality work. When selecting an electrician, consider factors like:
Years of experience
Relevant qualifications (such as being NICEIC or NAPIT registered)
Customer reviews and recommendations
Remember to obtain at least three quotes from reputable electricians to ensure you receive a fair and competitive price for your
Average EICR Cost
When considering an Electrical Installation Condition Report (EICR), it's essential to understand the average costs involved. The cost for an EICR can vary depending on several factors, such as the size and type of your property, and the region in which you live.
For a domestic property, you can typically expect to pay between £120 and £250. Smaller flats may be on the lower end of the scale, while larger homes with more circuits may fall on the higher end. It's important to note that if faults or potential issues are identified during the inspection, additional costs may occur for remedial work.
For commercial properties, the prices tend to be higher, generally falling within the range of £180 to £400. This is due to the increased complexity of commercial electrical installations and the higher number of circuits that often need to be checked. As with residential properties, additional costs may apply if faults are found and repairs are required.
Factors influencing the cost of an EICR:
Size and type of property: The number of rooms, circuits, and complexity of a property's electrical installation influence the time spent on the inspection and subsequently the cost.
Location: Prices can vary based on the region in which you live, as well as the availability of qualified electricians in your area.
Experience of the electrician: Highly experienced and accredited electricians may charge more for their services but can be more efficient and reliable in their assessments.
To ensure that you receive a fair and accurate quote, it's advisable to obtain at least three quotes from different electricians. This will give you a better understanding of the average cost for your specific requirements.
Keep in mind that the cheapest option might not always be the best choice, as the quality of the inspection and the electrician's expertise are crucial in ensuring the safety of your property. Prioritise finding a reliable and qualified electrician who has a strong knowledge of the regulations and guidelines related to EICR inspections.
Potential Additional Costs
Repairs and Replacements
When obtaining an EICR, you may encounter some additional costs depending on the condition of your electrical installations. If any electrical issues are identified, you will need to have them repaired or replaced. The cost can vary depending on the remedy required and the complexity of the issue. Here are some possible scenarios and their corresponding costs:
Minor repairs: These can include replacing damaged sockets or switches. Costs can range between £50-£200.
Rewiring: If the entire wiring system is faulty, it may need to be replaced. The cost may vary between £2,500-£6,000, depending on the size of your property.
Consumer unit replacement: Replacing an old or unsafe consumer unit can cost between £300-£600.
Keep in mind that these costs may change based on your specific situation and location.
Additional Testing
Sometimes, further testing may be required after your initial EICR is completed. This can occur if an electrician identifies potential concerns or problems that were not addressed in the initial inspection. The cost of additional testing can vary, and you should expect to incur extra charges for these services:
Fault finding: If an electrician needs to locate and diagnose issues, their hourly rate can range between £40-£100.
Supplementary inspections: Extra checks may be needed for specific areas or installations, which can cost between £50-£150.
These costs should be considered when budgeting for your EICR to ensure a thorough and accurate inspection is carried out.
Ways to Save on EICR Costs
Get multiple quotes – It's always a good idea to get quotes from several registered electricians to compare their EICR costs. This will help you find the best deal and ensure that you're not overpaying for the service.
Bundle services – If you need additional electrical services alongside your EICR, such as rewiring or replacing consumer units, consider asking the electrician to bundle them together. This can often result in a discounted rate for the combined services.
Regular maintenance – Keeping up with regular electrical maintenance can reduce the likelihood of expensive repairs. By addressing minor issues before they become more significant problems, you can save on future EICR costs.
Choose the right report frequency – EICR reports should be carried out at different intervals depending on the type of property:
Homeowners: every 10 years
Landlords: every 5 years or at each change of tenancy
Businesses: every 5 years (or as specified by your insurance policy)
By sticking to the recommended frequency for your property type, you can avoid unnecessary EICR costs.
Negotiate – Don't be afraid to negotiate the price with electricians, especially if the quote seems higher than average. While it's essential to ensure that the electrician is registered and experienced, there's no harm in trying to get a better deal for the EICR.
Remember, saving money on your EICR doesn't mean compromising on quality. Make sure to hire a registered electrician with the necessary qualifications and experience to ensure the safety of your property and its occupants.
EICR Cost Comparison with EU Countries
EICR stands for Electrical Installation Condition Report. It is a crucial inspection for electrical safety in residential and commercial properties. When looking at the costs of EICR in the United Kingdom, it is beneficial to compare them with other EU countries.
In the UK, the price for an EICR depends on the property size and location. A typical range is between £100 and £250 for a one-bedroom flat, whereas a larger property or commercial space can range from £150 to £350. The London area, in most cases, has slightly higher prices.
Germany has a comparable system called the E-Check. Depending on the electrician's qualifications and the property size, the cost generally ranges between €150 and €300. In comparison, France uses a system called Diagnostic Électrique, which is broadly similar to the UK and German systems. Prices can differ depending on the region, but they typically range from €100 to €250.
In Spain, the electrical inspection is called Boletín Eléctrico. It must be conducted every five or ten years, depending on the age of the installation. The average cost ranges from €80 to €180. Meanwhile, Italy has a periodic inspection system called Certificazione degli Impianti Elettrici (CIE), with prices generally ranging between €100 and €350.
The table below summarises the average EICR cost per EU country:
| Country | Inspection Name | Cost Range |
| --- | --- | --- |
| United Kingdom | Electrical Installation Condition Report (EICR) | £100 – £350 |
| Germany | E-Check | €150 – €300 |
| France | Diagnostic Électrique | €100 – €250 |
| Spain | Boletín Eléctrico | €80 – €180 |
| Italy | Certificazione degli Impianti Elettrici (CIE) | €100 – €350 |
When considering EICR costs, it is important to remember that prices may vary depending on factors such as regional differences, the electrician's qualifications, and the size and complexity of the electrical installation. As you can see, the costs across EU countries are not significantly different, with each country prioritising safety and compliance with electrical standards.
Legal Requirements and Standards
EICR, or Electrical Installation Condition Report, is an essential document for property owners and landlords. To ensure your property is safe and compliant with legal regulations, you must adhere to specific legal requirements and standards set out by UK legislation.
The primary regulation you need to follow is the Electricity at Work Regulations 1989. This legislation states that all electrical systems and installations must be properly maintained to prevent potential dangers. As a property owner, you have an obligation to ensure your electrical installations are safe and functional.
For rented properties, the Electrical Safety Standards in the Private Rented Sector (England) Regulations 2020 specifically require landlords to obtain an EICR every five years, or whenever there is a change of tenancy. This requirement applies to any new tenancies starting from 1 July 2020 and for existing tenancies from 1 April 2021.
Additionally, the IET Wiring Regulations (BS 7671) serve as a guide for electrical installation practices, ensuring properties follow a high standard of electrical safety. Compliance with these regulations is crucial for carrying out a satisfactory EICR.
When scheduling an EICR for your property, make sure to enlist a competent and qualified electrician registered with an approved scheme, such as the NICEIC, ELECSA, or NAPIT. These professionals possess the necessary skills and knowledge to ensure your installations meet the required legal and safety standards.
Remember, adhering to legal requirements and standards for EICR is not only mandatory but also a wise investment in maintaining the safety of your property and its occupants.